Description
Tech Specs
Type:

Beat Production Workstation

Sounds:

8GB Maschine Factory Library

Sampling:

Unlimited

Storage:

32GB Internal eMMC Flash (factory content), SD Card Slot (up to 1TB)

Format:

Standalone, VST2, AAX (64-bit)

Software:

Maschine+ Selection

OS Requirements – PC:

Controller Mode: Windows 10 or later, Intel Core i5 or higher

Manufacturer Part Number:

28000
Turn off the screen, turn on the inspiration
There's something special about standalone production systems. Since the 1980s, countless sample-based hits have been produced outside of the confines of a computer. There's something refreshingly immediate about using a standalone system — the ability to create and perform anywhere while being forced to rely on your ears rather than your eyes! MASCHINE+ offers that creative liberation, but it can also serve as the core of a computer-based setup. Compose a track offline, then pull it into your DAW for further tweaking. It's truly the best of both worlds!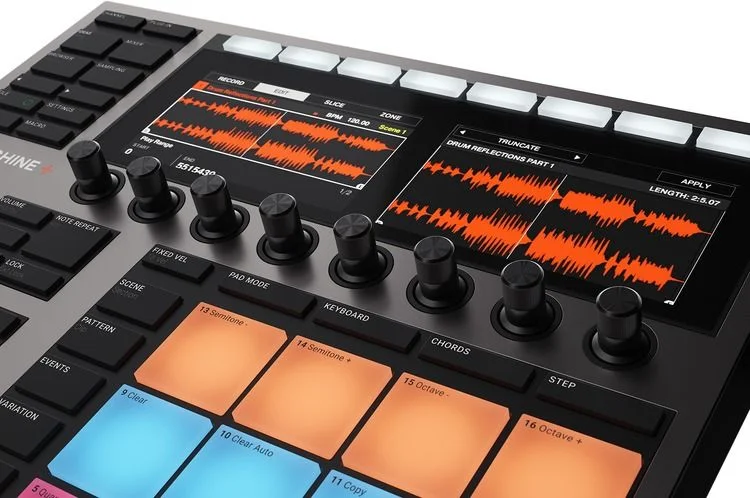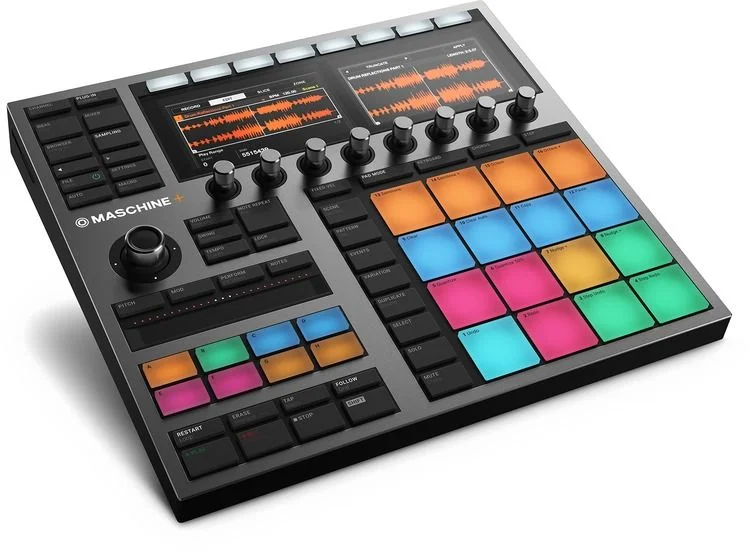 A power-packed production system
MASCHINE+ is loaded with a host of powerful features. Equipped with a massive amount of processing power and a built-in 96kHz/24-bit interface, MASCHINE+ allows you to cut high-fidelity samples in real time and manipulate them with Native Instrument's vast selection of sound design effects. You'll have enough juice to construct sprawling chains of delays, reverbs, saturators, and more! And, MASCHINE+'s deep feature set is simple to navigate with its stunning high-resolution full-color display. Designed for interaction, MASCHINE+ puts technology in service of creativity — so you can focus less on the tech and more on the art!
Easy song creation, remixing, and performance capabilities
MASCHINE+'s pattern-oriented concept frees you from the limits of linear arrangement. Build songs by layering patterns into scenes you can rearrange on the fly. MASCHINE+ offers onboard sampling via its built-in audio interface as well as internal re-sampling, precise editing and slicing, auto-mapping, effects and an ultra-convenient browser. Formidable sample editing tools let you go beyond groove arrangement, turning MASCHINE+ into a full sample editing workstation as well as groove production tool. At Sweetwater, we've found that MASCHINE+'s amazing slicing tools do everything classic groove production samplers can do and much, much more!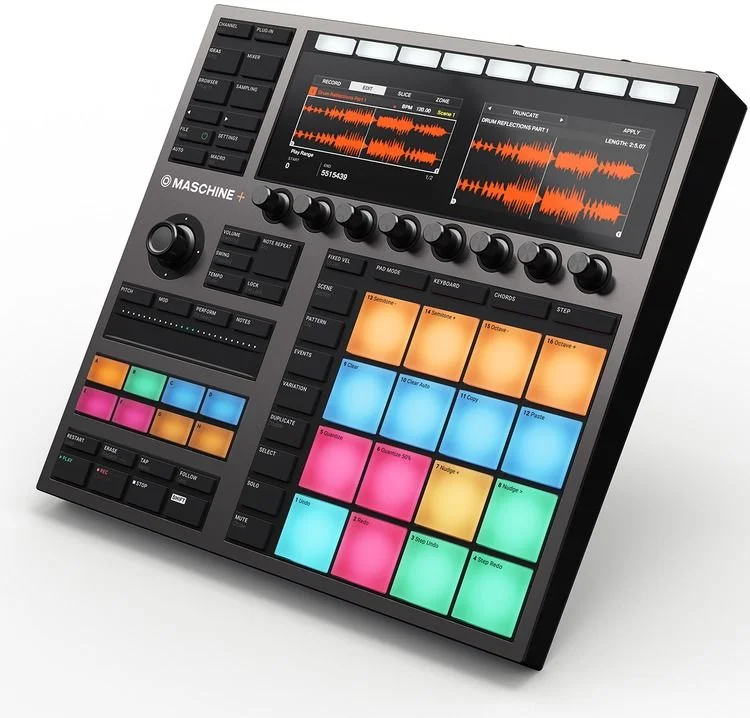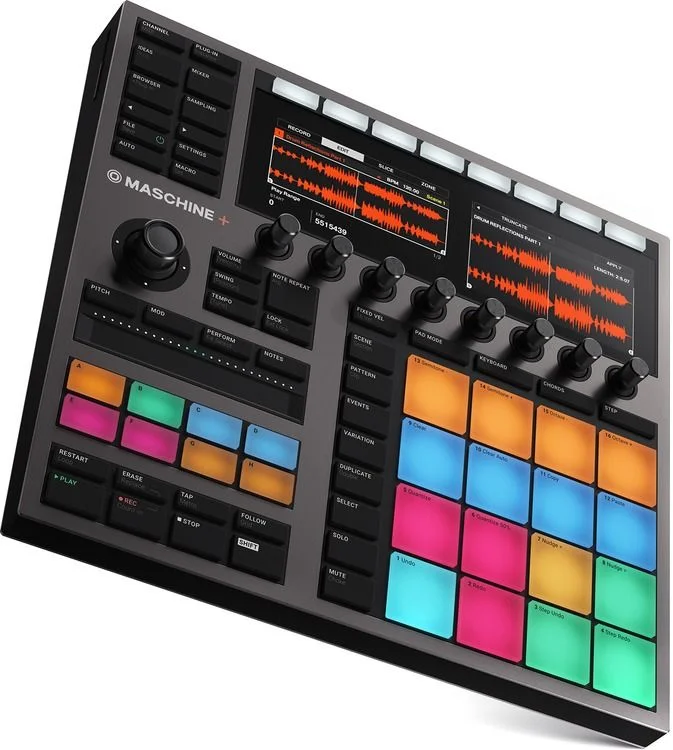 Over 8GB of production-ready drums, instruments, and loops
MASCHINE+ comes loaded with over 8GB of production-ready sounds and patterns. You get fat drum kits and state-of-the-art synthesizer sounds, including vintage MPC 60 kits and classic synth samples from the Moog Voyager, Korg MS 20, and Juno 60. You also get pristine acoustic instrument loops that have been sliced and tagged for your convenience. MASCHINE+ features studio-quality effects too, ranging from dynamics processors to beat-mashers, plus mastering tools and a Grain Stretch effect. And to top it all off, MASCHINE+ includes the Native Instruments Machine+ plug-in bundle, which includes 14 excellent Komplete titles.
Ableton Link integration for reliable synchronization
Experience the collaborative freedom of Ableton Link with MASCHINE+! Lock multiple systems to a common timeline. Change tempo globally across systems. Enjoy spontaneous jamming, collaborative creation, and synchronized performances.

Includes MASCHINE+ Selection Software Bundle
MASCHINE+ controllers include MASCHINE+ Selection — an industry-leading instrument and effects package. MASCHINE+ also includes a Plus voucher for two additional expansions.
FM8 Advanced FM synthesizer
Massive Powerhouse virtual analog synthesizer
Monark Iconic monosynth
Reaktor Prism Vibrant modal synth and effects
Reaktor Factory Selection R2 400 prestes plus Carbon 2, Space Drone, Newscool, and Lazerbass instruments
Kontakt Factory Selection Curated sounds from Kontakt's Band, World, Synth, Vintage and Urban Beats libraries
Retro Machines mk2 Collection of 16 vintage synths and keyboards
Raum Transformative high-fidelity reverb
Phasis Inspired by classic phasers with powerful new features
Deep Matter Captures the authentic vibes of Berlin's underground sound
Lilac Glare A colorful palett of timeless and current sounds
Solar Breeze Evocative collection of indie-electronica sounds
True School Fuses traditions of old- and new-school beatmaking
Velvet Lounge A bridge between classic soul music and 21st-century production techniques
Native Instruments MASCHINE Plus Features:
Operates standalone or in a DAW-based production environment
Built-in 24-bit/96kHz audio interface allows you to capture patterns and sequences onboard and with your DAW
Powerful quad-core processor and a 4GB dual-channel RAM
Built-in Wi-Fi for downloading sounds, effects, and upgrades without connecting to a computer
2 high-resolution full-color displays allow for precision sample slicing, sound tweaking, note editing, mixing, browsing, and more
Ultra-sensitive pads and touch-sensitive knobs make 2-handed drumming and tweaking parameters easy
4-directional push encoder makes browsing, navigating, and adjusting levels and balance fast and intuitive
Locking power supply prevents unintentionally unplugging the system
Innovative software/hardware hybrid groove production and performance system
Combines intuitive sequencer, sampler and high-quality effects with comprehensive hands-on control
Dedicated controller with 16 multicolor pads, 47 buttons, and 9 rotary encoders for playing, recording, sequencing, automation and arrangement lets you keep your eyes off your monitor
Smart Strip for strumming notes, pitch bending sounds, performing with FX, and more
Includes all basic groove-production features such as step sequencing, real-time recording, note repeat, slicing, and auto-mapping
Hosts VST and AU plug-ins for adding even more production power to your rig
Easily find kits, instruments, samples, and effects with the tag-based browser
Intuitive automation recording and step automation editing lets you create complex sounds
Sample compatibility includes Akai MPC 500, 1000, 2000(XL), 2500, 3000, and 4000 program import
Threshold detection makes sampling from external and internal sources easy
Works as a plug-in in virtually any application that supports AAX, VST, AU, or RTAS formats
Extensive MIDI I/O allows you to sequence your external MIDI gear with MASCHINE+ and vice versa
Easy drag-and-drop pattern export lets you easily transfer MIDI and audio directly to your DAW's timeline
Group Macro Controls let you assign any parameter of the dedicated group to the controller's 8 knobs
Dedicated MIDI-mapping software makes using the MASCHINE+ controller with other applications and instruments easy
Built to withstand the rigors of live performance with robust anodized aluminum top and bottom panels