Description
Tech Specs
Software Type:

DAW

Platform:

Mac, PC

Upgrade/Full:

Full

Download/Boxed:

Download

Bit Depth:

64-bit

Format:

VST2, VST3

Authorization Type:

eLicenser Required

Hardware Requirements – PC:

Intel Core i5 / AMD Ryzen Quad-core or higher, 8GB RAM or more recommended

OS Requirements – PC:

Windows 10 v1809 or later

Manufacturer Part Number:

90706
Decades of Powerful Production in One DAW
For decades, Cubase has been one of the most well-known DAWs in the industry. For Cubase Pro 10.5, Steinberg combined nearly three decades of software development into a single intuitive workspace. With plenty of horsepower under the hood, Cubase 10.5 offers users more than 90 FX plug-ins, 8 exceptional virtual instruments that harness over 3,000 sounds, and a host of improvements over its predecessors. By adding extra features and functionality to Cubase Pro 10.5, Steinberg has created a DAW in a class of its own — the most versatile Cubase yet.
What's New in Cubase Pro 10.5?
Powerful new features make version 10.5 the most incredible Cubase yet.
Spectral Comparison EQ — Take advantage of everything Cubase has to offer and mix with your eyes. The Spectral Comparison EQ gives you excellent visual feedback that helps you identify and eliminate frequency collisions and resonances. It's a difference you can see and hear.
Import Tracks From Project — Cubase now easily imports audio and other data from other saved projects on your PC for easier template creation and transfer of information. With Cubase Pro 10.5, exchanging data between projects is easier so you can focus on what matters — working.
Combine Select Tools Mode — Using the same few tools to edit multiple tracks? Combine Select Tools Mode combines selection tools for objects and ranges in a single powerful feature. You can apply multiple parameters at once, no tool switching required.
Colorized Mixer Channels — Who likes a cluttered workflow? In the newest version of Cubase, you can assign a color to your mixer channels. This organization tool quickly and painlessly declutters your workflow. With Colorized Mixer Channels you will intuitively find the tracks you are looking for.
Video Export Render — Cubase 10.5 lets your render videos as MP4 files complete with 16-bit stereo audio. This major upgrade eliminates the hassle of having to use a separate piece of software to export your video projects. Mix, master, and export all in one place
And More!
Colorized Mixer Channels
MIDI Retrospective Recording
Updated Score Editor
Multi-tap Delay
Improved Macro Creation Window
Safe Start Mode
Channel Strip
High-resolution Display Support
Easy Side-chaining
Significant Workflow Improvements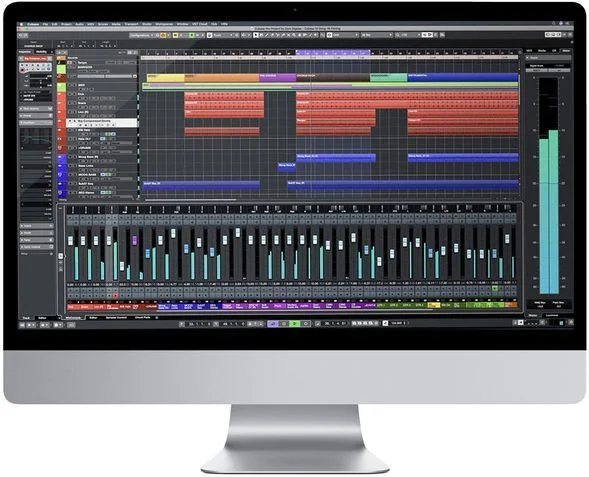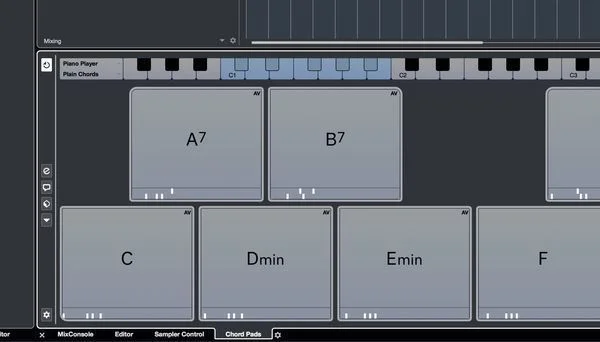 Compose music the easy way with Chord Pads
Writing chord progressions with Cubase is child's play, by virtue of its easy-to-use Chord Pads. Play with chords and patterns in real-time, while using multiple parameters to change chords as you go. You can play Chord Pads with your MIDI keyboard, and real-time parameters make improvising chord performances easy. With Chord Pads, you can change voicings, tensions, and more as inspiration strikes.
Create a perfect track with Comping
Here at Sweetwater, we've had the good fortune to work with virtuosos who can nail a take perfectly, the first time, in a single pass. Unfortunately, that's not always the case. That's where Comping comes in. While you're tracking, Cubase instantly creates a Lane Track for each take. After completing multiple takes, you can easily swipe across the best parts, while Cubase automatically creates a master take that contains all the selected parts. Building a perfect track couldn't be easier!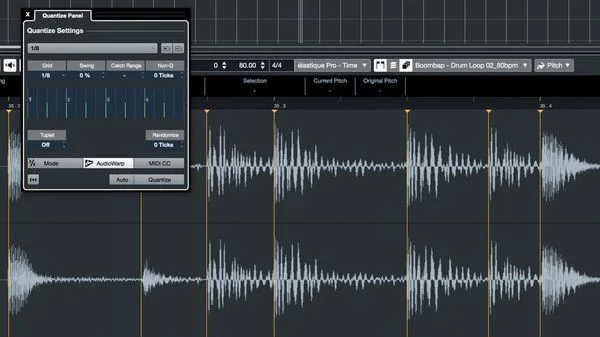 Transform your audio with Audio Warp Quantize
How'd you like to quantize audio the same way you quantize MIDI? With Cubase you can, using the convenient Quantize panel. Non-destructively quantize single audio loops, as well as your entire project, with a single mouse click. And because the audio events are warped, rather than sliced, they automatically follow your project's tempo or pitch changes, while remaining uncluttered for easy arrangement.
Bring your visions to life with Channel Strip
Cubase's Channel Strip was developed in collaboration with seasoned audio engineers, and it shows — it's jam-packed with the feel and flavor of a top-tier analog console. Channel Strip modules are integrated into every mixer channel, ready to transform your songs into great-sounding productions.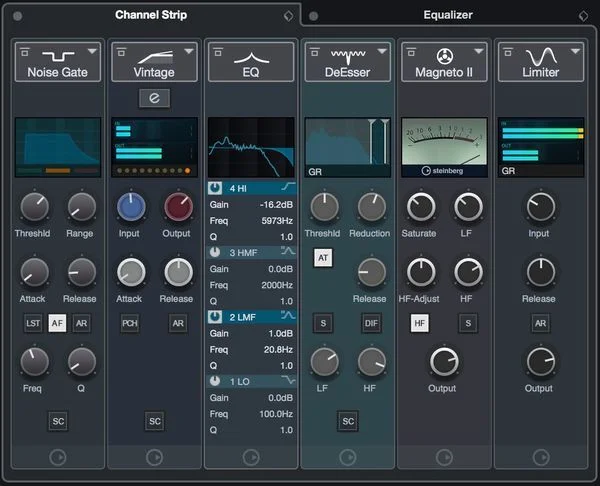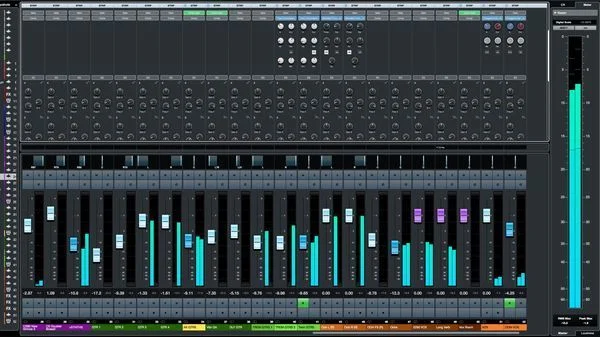 Turbocharge your mixing workflow with MixConsole
Not only does it shine in usability, look, and feel, Cubase's MixConsole also captures the sonic essence of a high-end analog console. Its scalable full-screen mode is tailor-made for mouse-free operation, allowing you to use your computer keyboard to access its channel elements. It's also optimized for screen readers for the visually impaired. View Sets and Channel Zones ensure maximum flexibility, while features like 1-click direct routing, customizable track icons, a track notepad, drag-and-drop support, and plug-in/channel search functions make you feel like you have a state-of-the-art mixing console in your computer.
Build loops and phrases with Sampler Track   Caleidoscope
Cubase's integrated sample editor, Sampler Track, chops-and-screws any piece of audio for building loops and one-shots on the spot. Pitch-shift vocals and filter beats directly within the editor to create your own remixes and mash-ups. And if you're just getting started, Cubase's Caleidoscope sample library has hundreds of samples and presets baked right in.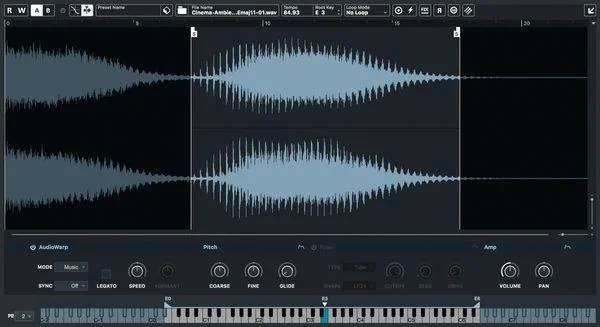 Integrate performer mixes and monitoring setups with Control Room
Cubase is designed to be the heart of your studio, seamlessly integrating performer mixes and monitoring setups into your recording and mixing workflow. Thanks to its Control Room environment, you can create and manage up to four unique performer mixes, manage feeds from external audio sources, and benefit from a built-in talkback function.
Steinberg Cubase Pro 10.5 Features:
Perfect for professional audio engineers, songwriters, composers, and conductors
Next-generation, 64-bit floating point audio engine gives you plenty of power
Video Export Render exports projects as MP4 files with 16-bit stereo audio
MIDI Retrospective Recording tracks you MIDI input, even when you're not recording
Safe Start Mode lets you start Cubase without any third-party plug-ins loaded
Colorized Mixer Channels speed up your workflow
Combine Select Tools Mode combines selection tools for objects and ranges in one feature
Intelligent compositional tools like Chord Track, Chord Pads, and Chord Assistant
MIDI Polyphonic Expression (MPE) Support
Steinberg Virtual Reality for producing top-notch VR projects
Comping makes creating perfect tracks a breeze
Audio Warp Quantize makes quantizing audio as easy as quantizing MIDI
Channel Strip modules are integrated into every mixer channel
MixConsole captures the essence of a high-end analog console
Sampler Track Caleidoscope for building loops and phrases
Control Room for integrating cue mixes and monitoring setups
Complete suite of over 90 high-end audio and MIDI VST effect processors
Comprehensive set of 8 outstanding instruments with over 3,000 sounds
Note: This software version does not support 32-bit plug-ins.