Description
Tech Specs
Software Type:

Reverb, 3D Surround

Platform:

 PC

Upgrade/Full:

Full

Download/Boxed:

Download

Bit Depth:

64-bit

Format:

AAX Native, VST2, VST3

Hardware Requirements – PC:

Intel Core 2 Duo / AMD Athlon 64 X2 or higher, 4GB RAM minimum

OS Requirements – PC:

Windows 7 SP1 or later

Manufacturer Part Number:

STRATUS3D_RD
Natural-sounding Reverb with 3D Surround Support
Exponential Audio's Stratus 3D is a reverb plug-in that's both unobtrusive and natural sounding. Powerful sound-shaping tools enable you to craft any reverb you can imagine while ensuring the utmost clarity. Flexible surround options, including Dolby Atmos and Auro, deliver multichannel reverbs that retain their clarity when folded down to mono. Stratus 3D's warp function puts incredible timbral and dynamic control right at your fingertips. And if all that sounds intimidating, you can relax — Stratus 3D includes an array of useful factory presets. If you're searching for a super-clean reverb plug-in, Stratus 3D is top shelf all the way.
Powerful sound-shaping tools offer great-sounding mixes
With Stratus 3D, you've got a substantial range of sound-shaping tools. An input EQ, along with bandpass and notch filters on early reflections and tails, keeps undesired elements out of your reverb. Dynamic control with tail suppression lends incredible clarity to your mixes. You also get tempo control of pre-delay and reverb delay, which makes blending the effect with your track a breeze — no calculator required.
Flexible surround options deliver top-shelf sound
Stratus 3D works in mono, stereo, and up to 7.1 channels of surround, in addition to 3D formats like Dolby Atmos and Auro. Each channel is decorrelated, so you don't have to worry about drastic sonic changes when you fold the mix down to mono — even from multichannel surround. What's more, Stratus 3D is jam-packed with stem options. Not only can you generate surround output from a mono input, but you can also create a surround reverb from an LCR input. In fact, you can generate a 7.0 output from a 5.0 input — the possibilities are endless!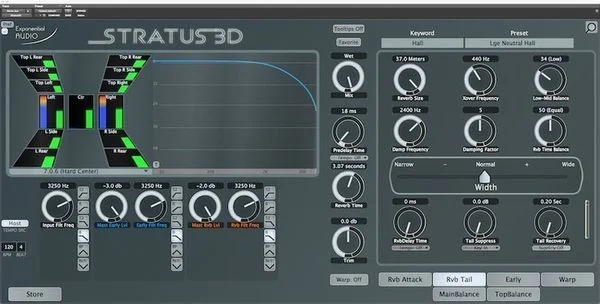 Warp function yields incredible timbral and dynamic control
Want to make your reverbs pop? If so, you'll appreciate Stratus 3D's warp function. Warp incorporates a compander, an overdrive circuit, and word-size reduction, supplying you with incredible timbral and dynamic control over your sound. At Sweetwater, we've used Stratus 3D to craft ambient textures that can't be reproduced with other plug-ins.
Exponential Audio Stratus 3D Features:
Unobtrusive, natural-sounding reverb plug-in
Input EQ and early reflection/tail filters keep undesired elements out of your reverb
Dynamic control with tail suppression lends incredible clarity to your mixes
Pre-delay and reverb delay with tempo control make blending the effect with your track easy
Warp function supplies you with incredible timbral and dynamic control
Works in mono, stereo, and up to 7.1 channels of surround
Compatible with 3D surround formats like Atmos, Auro, and more
Includes an array of useful factory presets