SonicCouture – Geosonics II v2.5.0
You Must Purchase Kontakt Pro From Us To Install & Use This Library In Full Version Click Here
Full Version

Library Size 8.6GB

Instant Download
Lifetime Activation & Access To Download
In Stock
Description
GLOBAL SOUNDSCAPE SYNTHESIS
CHRIS WATSON FIELD RECORDINGS
VECTOR SYNTHESIS
GENERATIVE TOOLS
KONTAKT PLAYER NKS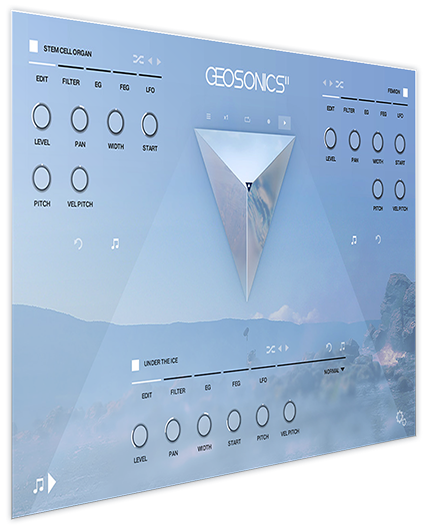 Geosonics II. The latest evolution of the original soundscape instrument.
Starring Chris Watson – legendary field recordist – with audio captured around the world from locations including:
GOBI DESERT
ICELANDIC GLACIERS
BORNEO RAINFOREST
TAIGA FOREST
MASAI MARA
ANTARCTICA
GALAPAGOS
SOUTH CHINA SEAS
NSW DESERT, AUSTRALIA
NORWAY
CARRIBEAN
THE KONTAKT INSTRUMENT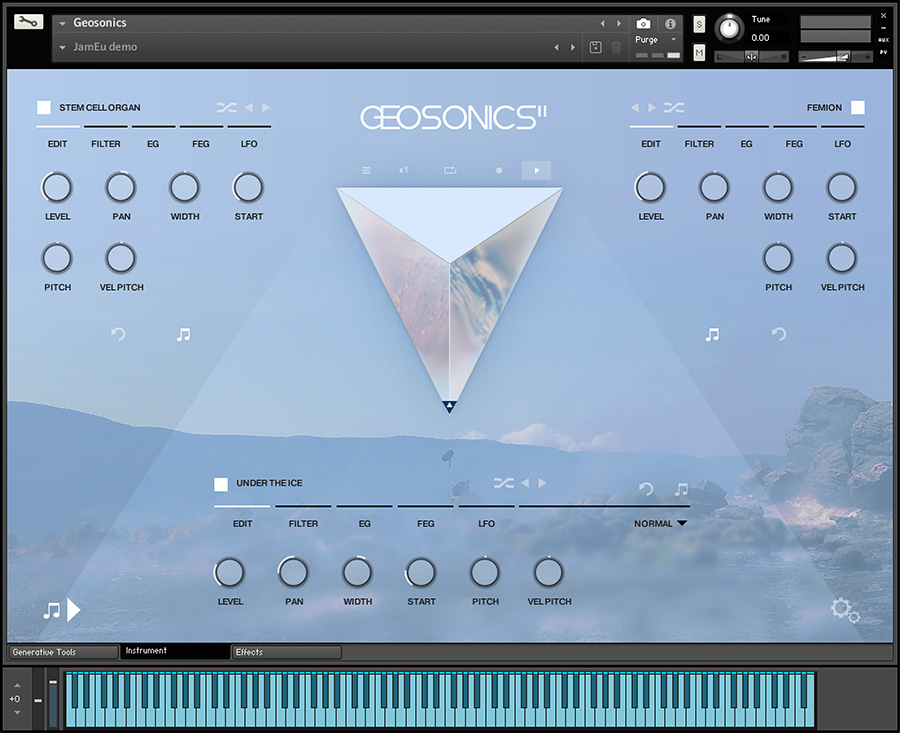 VECTOR PRISM
3 SOURCE ELEMENTS
FULL SYNTHESIS CONTROL
BACKDROP MODE
MICRO-TUNING
The main control panel. Create dynamic movements between 3 sonic elements: Chris Watson Recordings 2 synthesis elements. Set Watson recording as Backdrop or conventional pitched sample layer. Add EGs, filters, LFOs, Micro-tuning.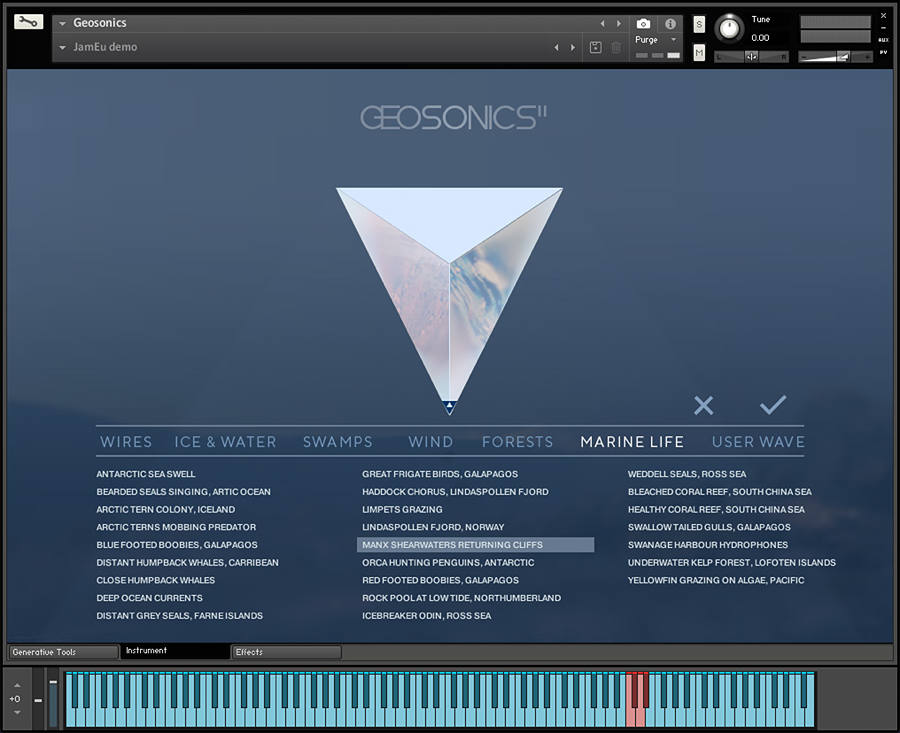 CHOOSE FROM HUNDREDS OF WAVEFORMS
LOAD USER WAVES
Geosonics II includes 5 categories of Chris Watson field recordings, with over 100 waveforms in total. 2 additional synthesis elements feature a wide selection of custom Soniccouture sounds, ranging from analogue synths to percussion, choirs and strings, as well as re-synthesized versions of the Chris Watson recordings.
Users can also load their own sounds into the Gesonics II engine.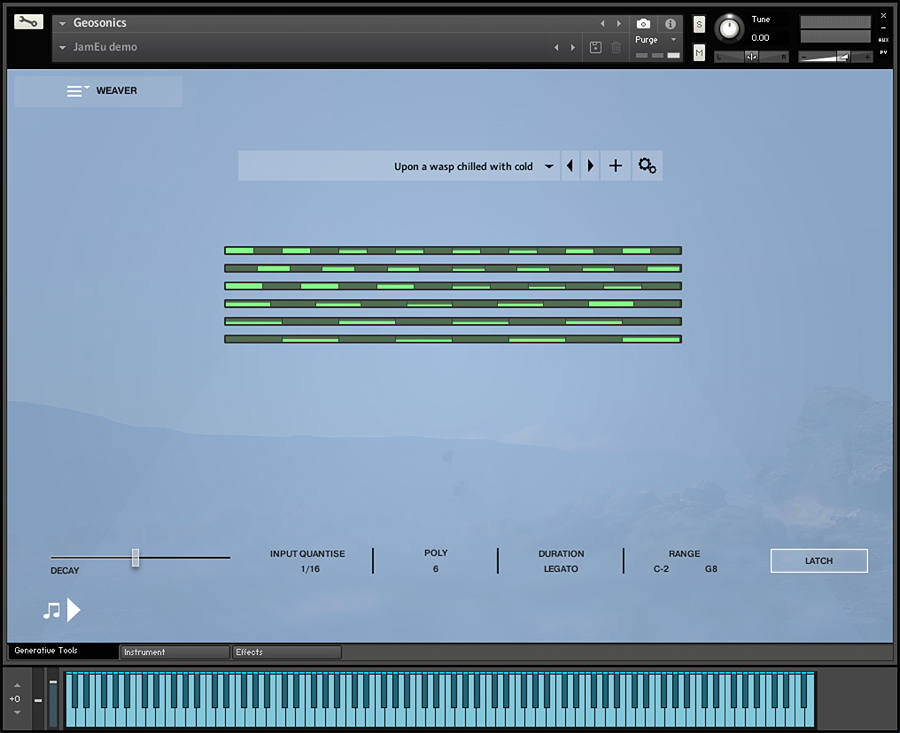 RHYTHMIC TRAIL GENERATOR
UP TO 8 LANES
CREATE YOUR OWN PRESETS
Create unique rhythmic patterns for each note you play. A bit like a delay effect but evolves differently according to what you play – strands of sound weave in and out of each other.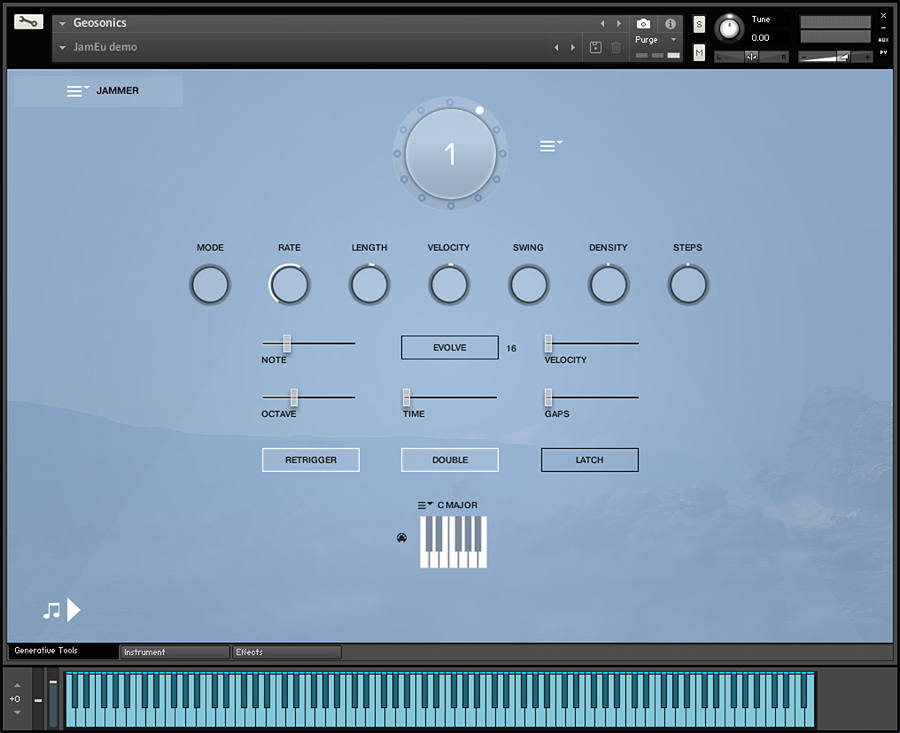 GENERATIVE ARPEGGIATOR
SCALE FILTER
AUTOMATION READY PRESET DIAL
The latest evolution of our generative arpeggiator – Hold a chord, and let it evolve – or loop a section and jam between 12 sequences.
GENERATIVE TOOLS: PHRASER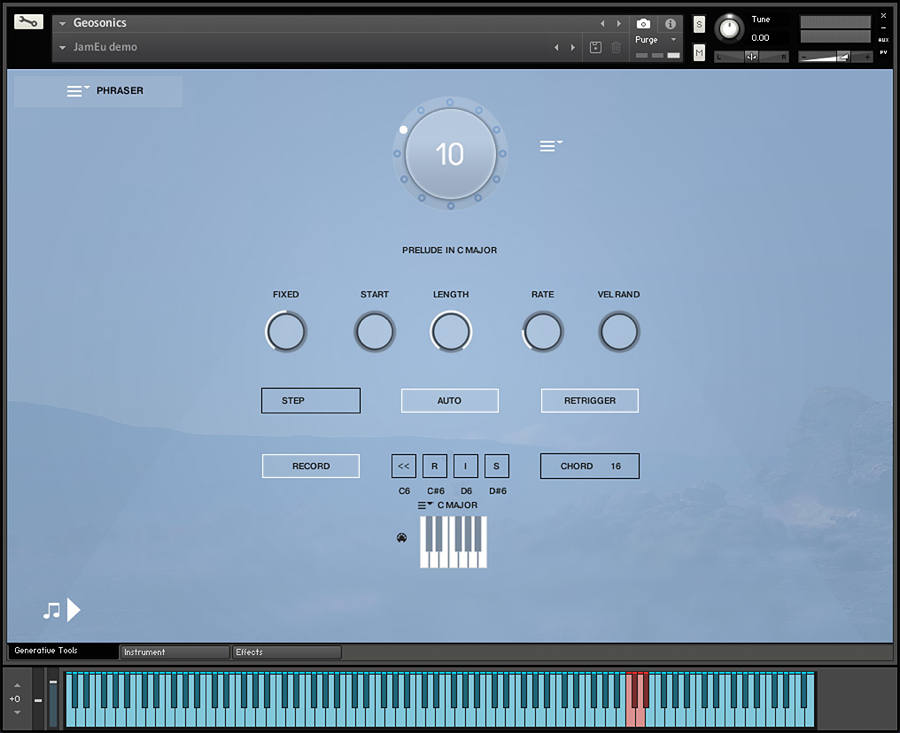 PHRASE MODULATOR
SCALE FILTER
AUTOMATION READY PRESET DIAL
Generate new melodic material based on your own phrases. Manipulate and transpose sequences with single keys.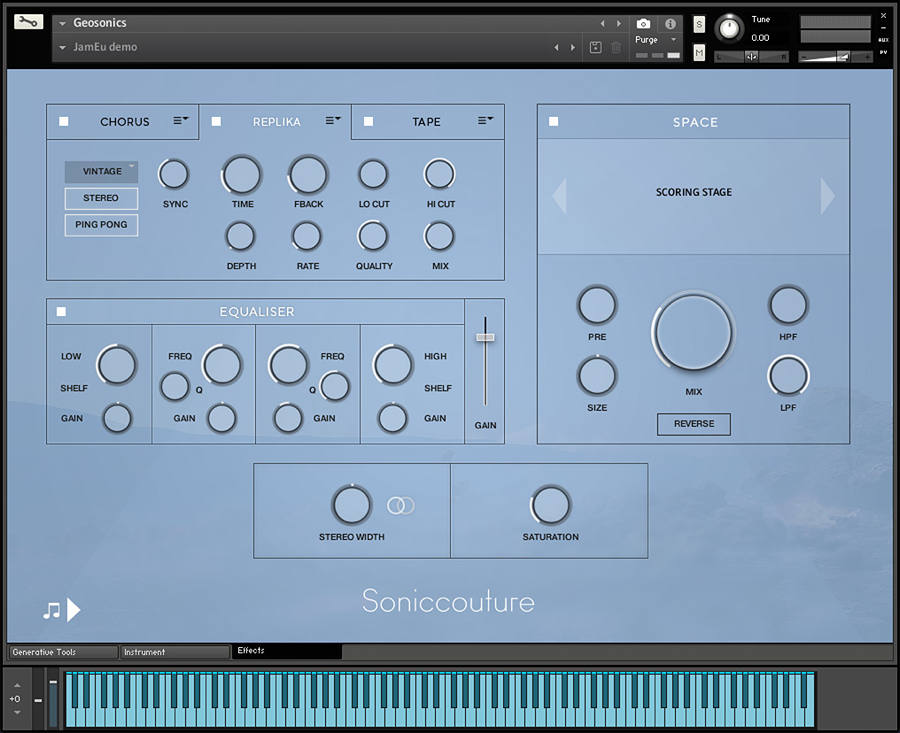 3 USER CONFIGURABLE INSERT FX
4 BAND EQUALISER
SPACE MODULE CUSTOM GEOSONICS IRS
Geosonics II features a comprehensive effects page, with a configurable insert chain featuring Replika, Phasis and other cutting-edge NI effects. The Space Reverb module features a selection of Chris Watson recordings as IRs to morph with your patches.

ADD-ON SOUND PACK
Polar Sun is a collection of 128 snapshot presets by sound designer & composer Richard Veenstra (Elektron, Native Instruments, Arturia, Steinberg)
Polar Sun filters the recordings of Chris Watson through an endless Arctic twilight. Icy melodic sequences float over undulating pads and drifting soundscapes.
*Requires Geosonics II. SoundPacks are only available to existing users of the full Geosonics II product.
To buy, login to your user account and you'll see the Sound-pack appear as a paid upgrade.
ABOUT CHRIS WATSON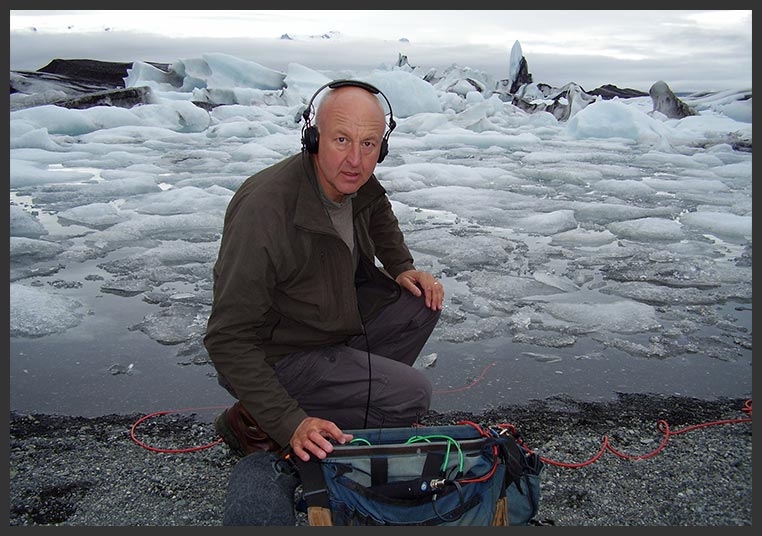 Chris Watson is one of the world's leading recorders of wildlife and natural phenomena. Born in 1953, in Sheffield, Watson was a founding member of the influential Sheffield based experimental music group Cabaret Voltaire during the 1970's and early 1980's. His sound recording career began in 1981 when he joined Tyne Tees Television. Since then he has developed a particular and passionate interest in recording the wildlife sounds of animals, habitats and atmospheres from around the world. As a freelance composer and recordist for Film, TV & Radio, Watson specialises in natural history and documentary location sound together with sound design in post production.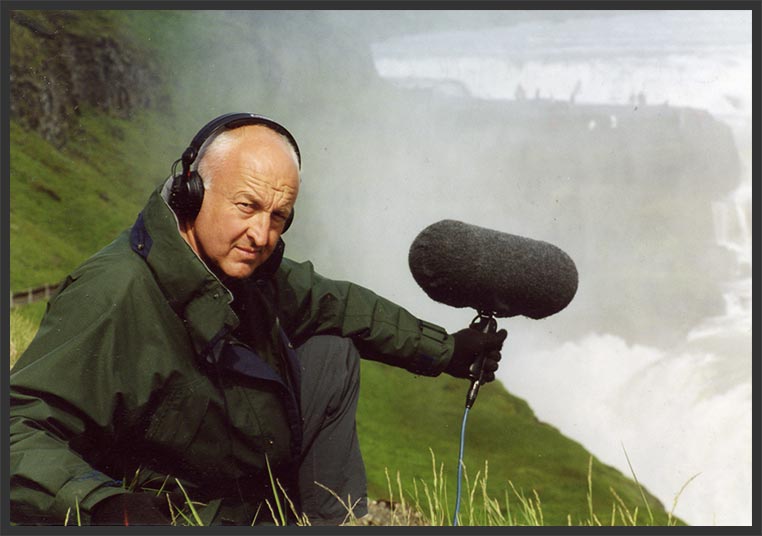 His television work includes many programmes in the David Attenborough 'Life' series including 'The Life of Birds' which won a BAFTA Award for 'Best Factual Sound' in 1996. More recently Watson was the location sound recordist with David Attenborough on the BBC's series 'Frozen Planet' which won a BAFTA Award for 'Best Factual Sound' (2012).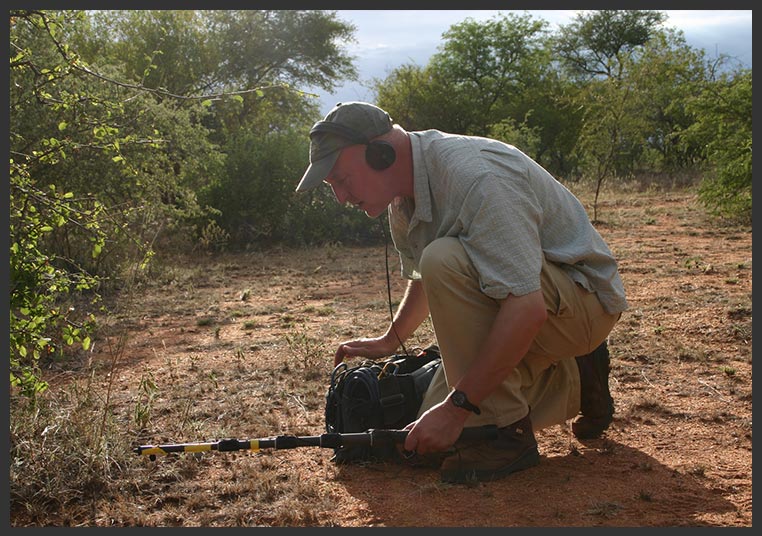 Watson has recorded and featured in many BBC Radio productions including; 'The Ice Mountain, 'The Reed Bed', 'Jules Verne's Volcano', 'The Ditch', 'The Listeners' and 'The Wire' which won him the Broadcasting Press Guild's Broadcaster of The Year Award (2012). His music is regularly featured on the BBC Radio 3 programme 'Late Junction'.
NEW IN GEOSONICS II
50 NEW CHRIS WATSON RECORDINGS | 100 NEW PRESETS | REDESIGNED INSTRUMENT |  NEW GENERATIVE TOOLS | NEW EFFECTS
Geosonics I users: login to upgrade
Library Specifications
115 original Chris Watson field recordings – 50 new in Geosonics II
Original Soniccouture synthesis waves – new content in Geosonics II
450 sound design presets – 120 new in Geosonics II
8.7GB Library
Prism Control: Vector synthesis interface
Load User Samples
Micro-tuning module
Jammer | Weaver | Phraser  custom KSP sequencer modules
Modular Insert FX chain
Space: custom convolution effect library
KONTAKT PLAYER 6 COMPATIBLE
This is a Kontakt Player instrument. This means that you do not need to own the full version of NI Kontakt to use it. It will run as a plug-in instrument in any VST/AU/RTAS/AAX/WASAPI,compatible host program or DAW eg: Cubase, Logic, Ableton Live, DP, Reaper, Pro-Tools. No extra purchase necessary.
Requires KONTAKT 6 or KONTAKT 6 PLAYER version 6.6 or later