Description
EZ Drummer 3 Or Superior Drummer 3 Is Require To Use This Expansion 
Tech Specs
Software Type:

Duality

Platform:

Mac, PC

Upgrade/Full:

Expansion for Toontrack EZdrummer / Superior Drummer

Download/Boxed:

Download

Bit Depth:

64-bit

Format:

AAX, VST, AU

Hardware Requirements – Mac:

Intel Core 2 Duo or higher, 4GB RAM or more recommended

Hardware Requirements – PC:

Intel Core 2 Duo / AMD Athlon 64 X2 or higher, 4GB RAM or more recommended

OS Requirements – Mac:

OS X 10.9.5 or later

OS Requirements – PC:

Windows 7 SP1 or later

Manufacturer Part Number:

TT532SN
The second installment of Toontrack's Duality — aptly named Duality II — offers bright, metallic-sounding drums for your progressive hard rock and metal compositions. This EZX expansion embodies the harsher side of a heavy-hitting dyad. Duality II includes a killer set of chest-pounding drums: six bass drums, 16 snares, four rides, four hi-hats, and 26 cymbals. You also get a range of outstanding MIDI performances and a collection of mix-ready presets. And if you haven't gotten your hands on Duality I yet, it's an essential complement to this set — the warmth-infused yin to Duality II's razor-sharp yang.
Toontrack: bringing the world-class studio home
Since the advent of home studios, recording musicians have struggled to attain a pro-quality sound. That's where Toontrack comes in. Their software bridges the gap between your humble project studio and the world's finest recording spaces. Whether you're a creative singer/songwriter or a home recording hobbyist, when you need a session drummer, a keyboardist, or help to achieve a studio-quality mix, Toontrack has a solution for you. At Sweetwater, we're confident that with Toontrack's innovative products in your arsenal, you'll achieve the "real studio" sound you've been aiming for.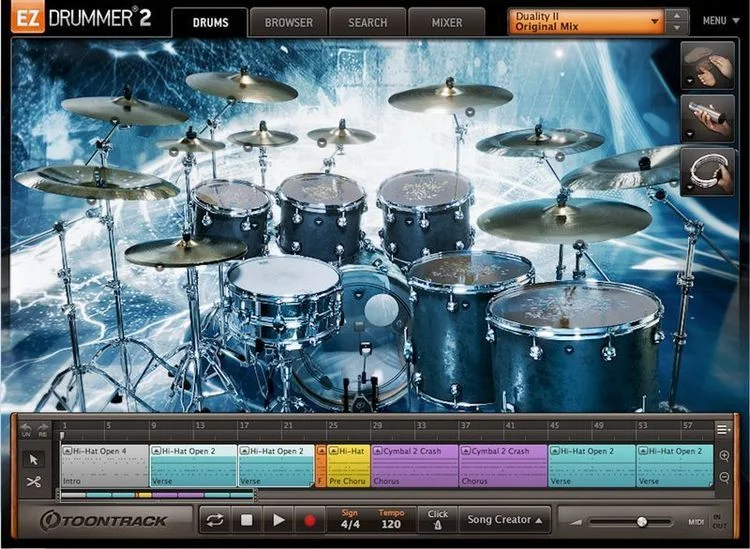 Toontrack Duality II Features:
Bright, metallic-sounding drums for prog-tinged hard rock and metal
Represents the harsher side of a heavy-hitting dyad
Contains 6 bass drums, 16 snares, 4 rides, 4 hi-hats, and 26 cymbals
Features mind-blowing MIDI performance
Includes mix-ready presets
Part 2 of a 2-part collection