Arturia V Collection 7 (Windows)
Tech Specs
Classic Keyboards and Synths

Windows 10,11 (64Bit Only)

Full Version

Instant Download
Bit Depth:

64-bit

Standalone, AAX, VST2, VST3,
In Stock
Description
V Collection 7: The Definitive Classic Keys Collection
From the authentic '60s tape-playback sounds of the Mellotron V to the '70s analog mojo of the Synthi V to the '80s digital phase distortion technology of the CZ V, there's something new for everyone in Arturia's V Collection 7 — which packs an arsenal of more than 8,000 sounds from 24 glorious vintage keyboards and synths into one amazing package. These virtual instruments don't just sound similar to their namesakes — they're spot-on re-creations of sought-after classics. So prepare to be completely blown away by the beautifully realistic sounds of the most well-known and coveted synthesizers, electric pianos, and organs of all time. Covering everything from stinging synth leads and rich, evolving pads to fat basses, vintage EPs, and howling B3s, Arturia's V Collection 7 is a must-have for your next project.
The Mellotron V
Arturia has developed three new soft synths for V Collection 7. The Mellotron V meticulously re-creates one of the very first sample instruments, which wove its tape-playback sonic magic into some of the greatest music ever recorded — gracing hit records by the Beatles, King Crimson, the Moody Blues, Yes, Led Zeppelin, the Rolling Stones, David Bowie, Genesis, and many others. From our perspective at Sweetwater, perhaps the coolest thing about the Mellotron V is that it lets you import your own samples!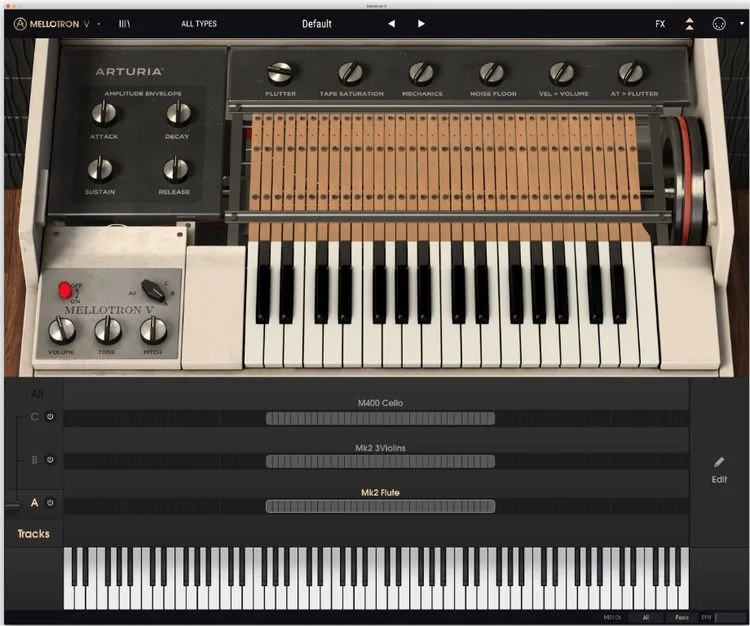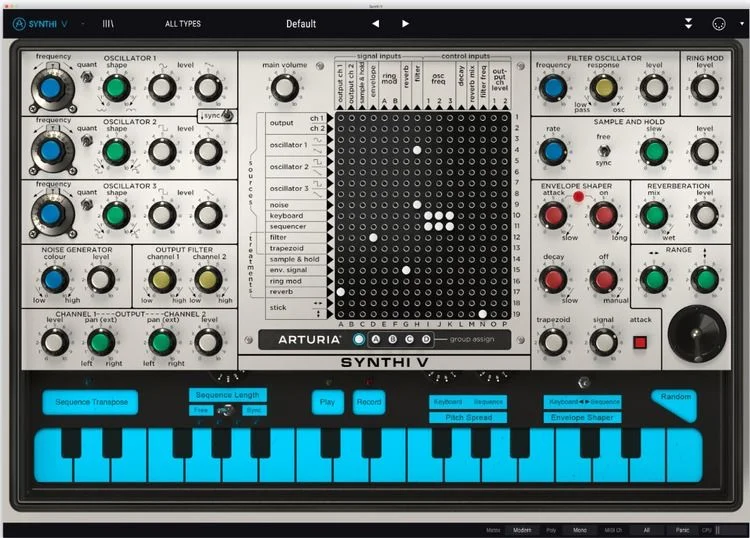 The Synthi V
Next up, the Synthi V takes the 1970s portable monosynth heard on records by Tangerine Dream, Kraftwerk, the Who, Aphex Twin, Todd Rundgren, Jean-Michel Jarre, and others to a new level of usability. First brought to market in 1969, the VCS3, with its 16 x 16 patch-pin matrix, was (in)famous for its relative instability due to oscillator drift and varying pin tolerances, which could lead to (often beautifully) unpredictable sonic results. All of which is re-created in the Synthi V. Unlike the original hardware, however, the Synthi V is remarkably easy to use, and it can be super-stable and predictable — if that's what you want.
The CZ V
In the '80s, digital was all the rage, with several synth makers competing in the marketplace with their own proprietary technologies such as FM, linear arithmetic, and wavetable synthesis. One manufacturer created phase distortion, which modulated the phase of a waveform to generate a new wave shape, to power their CZ line of synthesizers. Arturia's CZ V captures the sonic essence of this distinctive-sounding synth in the software realm, and it's a powerful instrument — perfect for searing leads, punchy basses, and bell-like pianos.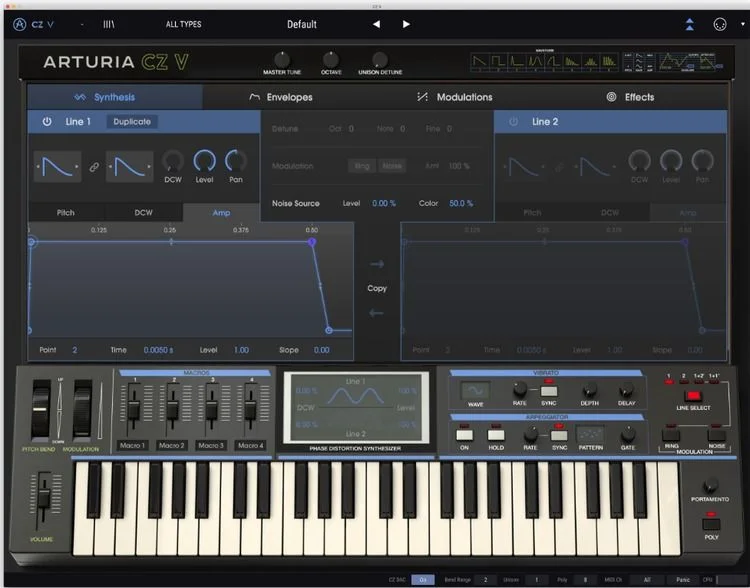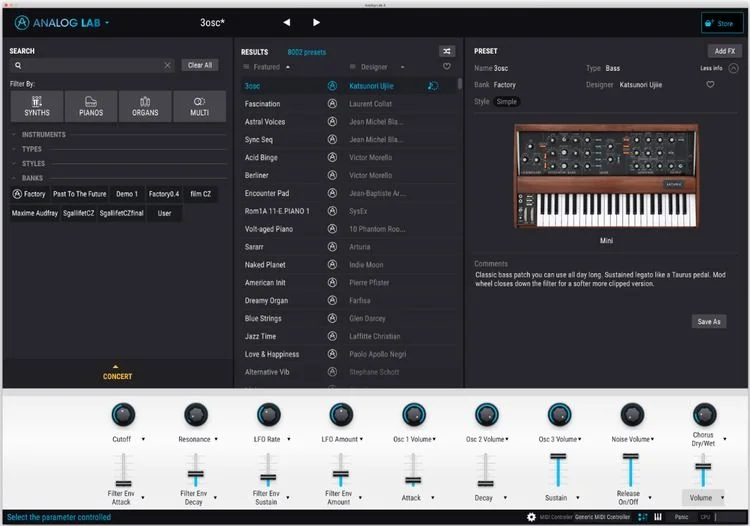 And more …
In V Collection 7, Arturia has included numerous updates, including a new, completely redesigned audio engine and improved functionality for the venerable B3 V. And Analog Lab 4 now includes selected presets from Arturia's Pigments soft synth and also features a new Live Mode optimized for onstage deployment. The browser section is also vastly improved, streamlining your workflow and making it easier to find sounds quickly. Whether you're a modern music producer, synth aficionado, or composer, Arturia V Collection 7 is a must-have. It is, after all, the definitive classic keys collection.
Arturia V Collection 7 Software Instrument Bundle Features:
More than 8,000 sounds from 24 essential classic software keyboards
3 new instruments: Synthi V, CZ V, and Mellotron V
B3 V update with refined audio engine, modeling, and new features
Major Analog Lab 4 update with more presets, including Pigments sounds, Live Mode, and a redesigned user interface
Advanced TAE technology with authentic simulation of coupling between electronic circuits
All instrument interfaces are 4K and resizable
Expertly crafted presets for the new instruments
Over 600 new presets for old favorites