Description
Get Great-sounding Vocal Tracks the Easy Way
If you want vocals that sit beautifully in your mix, iZotope Nectar 3 Plus is an easy, effective way to make it happen. This indispensable plug-in suite boasts a top-shelf cache of vocal-centric effects modules, including EQ, Harmony, Compressors, Dimension, De-esser, Pitch, Auto Level, Saturation, Reverb, and Gate. But the real magic lies in Vocal Assistant, which uses iZotope's renowned AI-assisted processing to detect and correct a whole slew of hard-to-rein-in vocal problems. Unmask digs buried vocals out of a mix, with EQ Amount and Dynamic controls that ensure extreme ease of use and transparency. You also get built-in Key Detection — a huge time-saver — along with Melodyne 4 essential, which offers powerful, transparent pitch and time correction, and iZotope RX Breath Control, which automatically suppresses breaths in dialog or vocal recordings. If you're struggling to get great-sounding vocals (or simply want to speed up your workflow), Nectar 3 Plus has the cutting-edge vocal processing tools you need.
Included modules:
EQ removes unwanted resonances in real time — includes a follow mode, an innovative contextual UI, and enhanced fluid-style metering.
Harmony adds up to eight additional voices for natural-sounding harmonies, doubles, and textures.
Compressors with four different emulation modes supply you with flexible dynamic control and natural coloration.
Dimension contains three different modulation-style effects: Phaser, Flanger, and Chorus.
De-esser reduces unwanted or exaggerated sibilance using an open, inviting interface.
Pitch & Auto Level offers pitch correction, automatic input gain riding, and a Limiter module.
Saturation spices up your vocal tracks with everything from subtle warmth to intense distortion.
Reverb adds natural space or a gigantic wash of ambiance using intuitive controls.
Gate cleans up your vocal tracks with an intuitive, responsive operation.
A vocal Assistant is like an extra pair of trusted ears
The engineers here at Sweetwater will tell you — getting a great-sounding vocal track isn't easy. Thanks to Nectar 3 Plus, that's about to change! Vocal Assistant makes short work of level inconsistencies, resonant peaks, timbre variations, and harsh frequencies. It employs innovative machine learning technology to set EQ nodes, analyze dynamics, set suggested compression settings, remove unwanted sibilants, create space and ambiance, and more. From there, you can personalize the sound as much as you'd like. It's almost like having a second set of ears in your studio.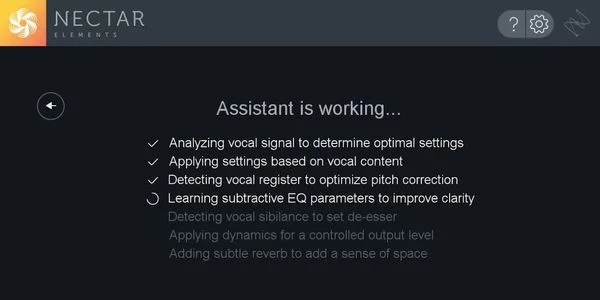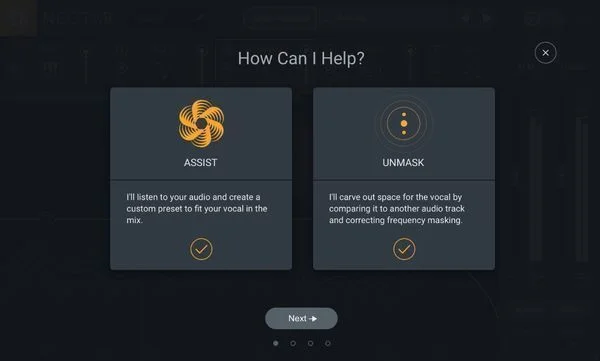 Unmask places your vocals front and center
Are your vocals buried in the mix? No problem. Nectar 3 Plus's Unmask function communicates with the rest of your mix, allowing you to position the vocal front and center by moving other mix elements out of the way. Unmask uses inter-plug-in communication to interface with any instance of Nectar 3 Plus, Neutron 3 (sold separately), or iZotope Relay (included with Nectar 3 Plus). An EQ Amount window enables scaling the amount of masking to your preferences, ensuring loud, clear vocals with zero artifacts or energy loss in your other tracks. A Dynamic setting prevents other instruments from receiving unwanted EQ cuts by applying to unmask only when vocals are present. Thanks to Nectar 3 Plus, your mixing workflow is about to get a kick start
iZotope Nectar 3 Plus Features:
Vocal processing plug-in with machine learning technology
The main modules include EQ, Harmony, Compressors, Dimension, De-esser, Pitch & Auto Level, Saturation, Reverb, and Gate
Vocal Assistant listens to your audio, then detects and makes corrections automatically
Unmask positions vocals front and center by moving other mix elements out of the way
Key Detection saves time by learning the key of your vocal
Melodyne 4 Essential offers powerful pitch and time correction
iZotope RX Breath Control automatically suppresses breaths in dialog or vocal recordings